'HTML5' The future of multi-platform technology
Mumbai based game development startup, Nileegames have been on the scene for a little over 12 months, and their progress over the last year has been fairly rapid.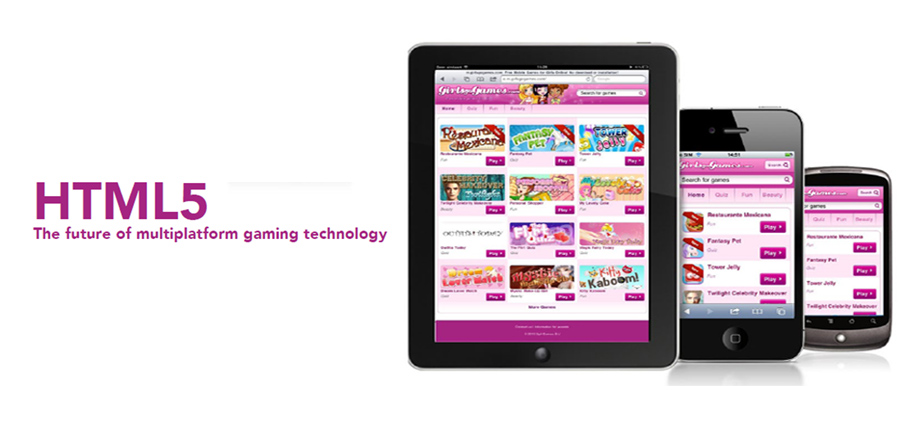 WGE:MAG caught up with the start-up's Chief Executive Officer, Anand Jha, to find out what they have been up to and how they are embracing the brave new world of HTML5.
"Html5 is a revolution on multiplatform gaming technology," Jha told us from nileegames' mumbai base.
"Games can be played on all major modern gaming platforms – ios, android, Facebook, pc and mac and the numbers of potential players for these games are increasing day by day."
Nileegames have been working with Dutch gaming powerhouse spil Games recently providing them with high quality html5 games for their portals.
"Due to extensive demand of html5 games, we started developing games on html5 platform and providing these games to html5 game publishers, we welcome game publishers who need games on this platform," Jha says of the business he started after six years in the industry, it appears that during that time the indian developer and publisher has become a pure advocate for the gaming framework.
"After working on other mobile native and online platforms, i found that applications on native stick with only one platform and porting games on these platforms costs a lot. so i decided go with html5, which provides a multiplatform solution so i brought together an expert team which is dedicated towards html5 and doing innovative research on html5.
"I understand this technology is still in its early stage, and off-course there are drawbacks, but it provides on unified way to make rich-media games on almost any platform. Games on browser based html5 platform give instant access to audience on Windows, mac os X, linus, ios, android and Windows phone 7. the major argument against html5 is performance vs. native application. whilst this is true to some extent, the gap will continue to close as rendering engines continue to show dramatic improvements with the lead of Google chrome and other browsers. at this point is won't matter if you are developing a native app or an html5 app, because you will be able to use as many resources or all of the resources you need in either case. HTML5
Nileegames' work with spil Games has taken them to some fairly interesting places, quite fast and they have already produced one game which is sure to excite, whatever platform it's played on. "We have created a game "Family camping vacation" for spil Games; it's a story base hidden object game with few mini-games in it, the story is around a family who plan for camping trip at national park on summer vacation, this game has eleven unique levels with some nice conversation between family members and a roadmap to show their progress. Rewards and high scoring system are also implemented in this game and can be playable for long hours.
"Family camping vacation is a html5 browser based game made for mobile devices; players can access this game on their ios and android devices through m.girlsgogames.com. "the scope of this game was big on the html5 mobile platform, we faced many difficulties during the production, and asset loading was the biggest problem we faced, at the early stage of the production, game performance was very slow, assets were not getting loaded properly, we had memory issues and we were facing unwanted results on ios and android devices. to solve this problem my development team produced a great effort and we got the solution of dividing assets into chunks, it gave us capability to control memory as well. now our games load perfectly and give you that native application feel."
It's early days for html5 but the potential for the framework to work on all platforms is one which is sure to attract developers and publishers, new and old. so did nileegames' relative inexperience in the market help in that they didn't have too many processes already set in place?
"We're experimenting with our games on mobile sites, finding out what works and what doesn't, and acting fast on what we learn," says Jha.
"HTML5 use has definitely been picking up, with browsers rapidly adopting HTML5 specifications—but we're waiting for consumers to update their browsers. html5 isn't ideal for out-of-date browsers, which a sizeable chunk of the population still uses on its computers and mobile devices. so in order to ensure players on any device have access to games wherever they are—regardless even of internet connection—we still make content for native apps as well. "We currently have a hybrid mobile strategy, developing both html5 content and native apps. but browser vendors are opening up to html5, so while it will take browser-based games time to catch up to the quality level of Flash, the future looks bright."
Whilst it's easy to see why gaming rookies such as nileegames are embracing html5, there is an even bigger question for some of the bigger companies like spil Games to get involved. but on the surface at least they seem keen to get behind the platform: "our philosophy has always embraced the spirit of free, accessible fun for our players on any platform, whether from behind a desktop computer at work or on the run with a mobile phone. Which is why we saw something special in browser-based mobile gaming, recognizing revolutionary potential in HTML5—a set of technologies poised to challenge the dominance of native apps in the gaming industry by outfitting browser-based games for any device.
Head of licensing at spil Jeroen bouwman commented "We have licensed several Flash games from nileegames, so we know their expertise and the quality anand and his team delivers. We look forward to a fruitful and long-term relationship with nileegames."
With one of europe's biggest and best on board, anand Jha can now take nileegames into the bright future of html5 development and he's keen to encourage other developers to give their full support to brower-based gaming. he said: "We are now dedicated towards html5 games and developing games for both casual and social audience. We are thinking of nileegames future as a developer and publisher of this upcoming booming technology with html5 games and constantly looking for new business opportunities in this era.
"Developers who are seeking opportunity in html5 games, must try. there are many open source library and engines are available. html5 is the future of multiplatform gaming technology, so this is the right time to grab this technology and be a part of the html5 gaming industry. "We welcome all developers if they want to showcase their work to us and we are also constantly looking for news games to license."
Article Source
Back